As we already know, the PropTech (Property Technology), is a sector of activity formed by a series of Startups, which use new technologies to innovate and add value to the real estate sector. In the American market, the terms RETech (Real Estate Technology) or CRETech (Commercial Real Estate Technology) are more commonly used.
In March of 2017 the real estate consultant Aguirre Newman and the strategic consultant Finnovatic specialized in Fintech, Insurtech, RegTech and Proptech, created and published the first map with the main PropTech startups in Spain. They started identifying 58 companies and in the last revision of the map, in November of this year, they have already reached the 236 Companies.
Verticals in the Sector PropTech
The PropTech map is organized in vertical 10 according to the activity of startups in the real estate sector and grouped as follows:
Portals and Marketplaces

: Web platforms in which offers of sales and rental of real estate assets are published, with search engines to locate them online depending on the type of property, characteristics of the same, geographical area, price, etc.
Peer to Peer (P2P)

: Platforms in which property owners can sell and / or rent them by contacting them directly without intermediaries. Allowing even to process transactions online.



Big Data:

Technology that manages a large amount of data to obtain a more accurate knowledge of the real estate sector, market analysis, valuations, risks, etc.
Home Automation:

Automation of systems in real estate for the improvement of energy efficiency, safety and comfort.
Collective investment platforms or crowdfunding:

from which you can make online, monetary contributions for the acquisition of real estate assets, in order to obtain a return through the sale and / or rental of them, and that allows you to diversify investments, to make very low monetary contributions , which in some cases can be from € 50.
Real estate management

: Companies that create software, for the management and accounting of properties, the management of vacation rental reservations, tenant services, property maintenance, cleaning services, etc.
Mortgage financing

: Startups with applications and software for the comparison and online search of the mortgages of the different financial institutions, as well as simulations for calculating them.
Virtual reality:

Integrate this vertical, the companies that design and carry out virtual tours and representations in 3D of real estate assets.
Real Estate Software

: Software companies for the management of real estate companies and their commercial teams through process automation.



Real Estate Marketing

: It is integrated by companies that implement digital marketing methodologies to the real estate sector.
BigData in the PropTech Sector
In the PropTech Map, the Big Data vertical, it is made up of a total of 28 companies and is subdivided into four categories: Appraisal / Valuation Tools, Geolocation, Analysis / Research and Raiting.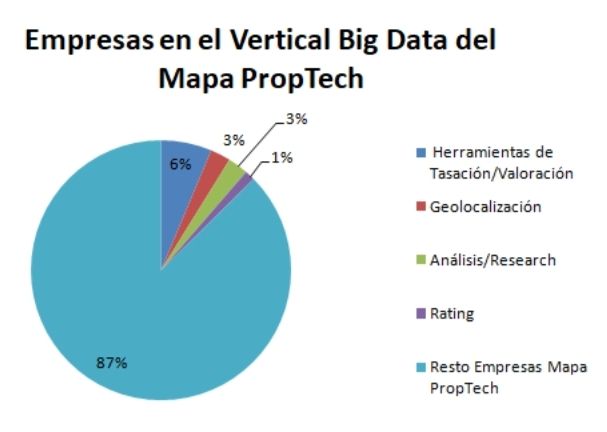 Tools and Pricing

: Technologies that through BiG Data and the use of various algorithms, which take into account the main and various variables that characterize the Real Estate sector, allow online real-time valuations to be determined online at any time from the study of data from Similar offers in the area published in the different real estate portals. Price developments by cities, neighborhoods and even by streets and portals, or online comparisons of property appraisal request budgets.
Madiva, Urban data analytics, Third b, Valuation.es, Iberotasa, Realo, PriceHoods, Qasa, Visualurb.es, Homeprice, Datavenue, Rentger, Higuests, Fing Sign, Valoris
Geolocation

: Geographic Information Systems, which help to locate and determine the ideal places for the development of real estate developments based on a target audience and their purchasing power, type of land, or comparisons of valuations and valuations of assets by areas . They also help end customers to value the purchase of a home not only for the price and the characteristics of it, but also depending on the public transport existing in the area, the situation and type of schools, or the type of shops that there are public or private parking lots, etc.
betterplace, dotGIS, Geoblink, Carto, InAtlas, InAtlas, Mocha
Analysis / Research

: Search engines for the selection of existing real estate offers, which adjust to the needs established by users interested in buying real estate, depending on the area, the characteristics and the price of the property. Also included in this category are Softwares with predictive systems based on algorithms and using image processing, which allow to analyze the flow of customers in shopping centers, to determine for example the best location of the premises based on the analysis of the flows of people and their behavior patterns.
Restb, Shoppermotion, Cubelizer, Canayticals, propbytec, Belbex
Rating

: Real estate raiting platforms that allow through Big Data and Artificial Intelligence, analyze and determine the risks associated with real estate activities and that help investors to make decisions when undertaking investment projects or real estate divestments.