Platforms such as icrowdhouse allow savers to invest in real estate offering diversification, security and a 100% digital environment

Icrowdhouse organized a webinar to analyze the investment possibilities that savers now have and to discuss the trends of 2021
The participatory financing platforms are a sure value for savers and non-professional investors. With them, a multitude of options are opened in a sector, that of real estate, which until now was difficult to access as it required heavy investments and bet all the savings on a single product.
Icrowdhouse, a participatory financing platform that brings investors together with real estate developers, organized a webinar this week to discuss investment opportunities in the real estate sector that are open to savers and non-professional investors.
It had the participation of its general director, Pedro Arroyo placeholder image; from the general director of the Association of Real Estate Developers of Madrid (ASPRIMA) Daniel Raven; and the founder of M20, albert milano. The seminar was moderated by Jose Trecet, responsible for content of PreAhorro.com.
Investing in real estate is now accessible to savers thanks to technology
The main conclusion that came out of the virtual event was that non-professional investors and savers have thanks to the participatory financing platforms as icrowdhouse a wide range of investment possibilities in real estate.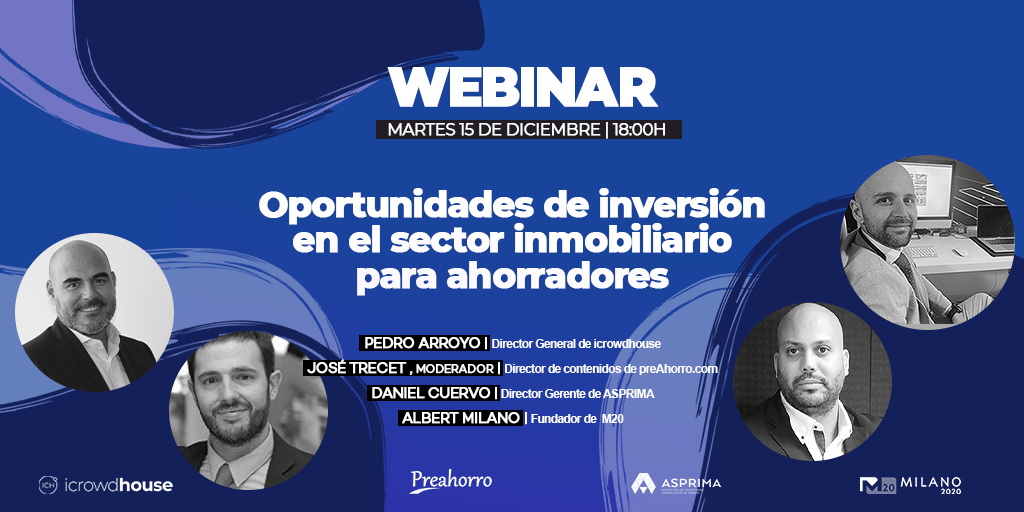 Pedro Arroyo placeholder image He explained that before, to invest in real estate "if you did not have large amounts saved, you enter into commitments such as mortgages. On the other hand, now, with participatory financing platforms like this one, you do not take risks of putting all your capital in one asset, you can put it in different assets, which is diversification, something that we always promote at icrowdhouse ". In this sense, he added that the platform "also allows you to invest in different geographical areas, when you want and how you want. The amount can also be decided, investing the amount that each one considers. Another added value is that it is a 100% transparent platform authorized by the CNMV and with which you can always monitor the projects in which you invest ".
In this regard, albert milano of M20 highlighted "the platforms are a very good option with promotions with very good returns that, on their own, it is very difficult to obtain them as a saver". For this reason, for savers and non-professional investors, Albert Milano considered that "by 2021, the participatory financing platforms they are a very good option ".
For its part, from ASPRIMA, Daniel Raven, asked to do an informative work of these options of participatory financing, because the confidence in the sector exists ". From his experience as general director of the promoters association, he explained that "companies do have these platforms" and added that they are taking "the first steps in this new market, which currently represents between 12% -15% of total funding. For two or three years the promoters have already financed projects with these options. In the coming years there will be a more natural coexistence ".
Participatory financing platforms are safe
Another point that was discussed in the virtual meeting had to do with the security of this type of platform. Some case that has clearly hurt investors, ignorance of the sector or fear of using technology to invest are some of the reasons that hold back savers, however, yesterday's debate made it clear how secure platforms such as icrowdhouse have.
albert milano He commented that "every investment carries a risk", but explained that icrowdhouse has "a triple validation that gives security and can help an investor to decide to invest in real estate through the platform.
From the point of view of Daniel Raven, "The promoters that are operating today are of all solvency, economically and financially and with proven experience. We are fewer promoter companies than in the previous expansionary cycle, but more professionalized, which guarantees better projects and transparency throughout the real estate development phase, both for the client and for investors and financers ".
In this regard, the CEO of icrowdhouse, Pedro Arroyo placeholder image, clarified that icrowdhouse always has promoters "solvent and with a long history in the sector" and highlighted the aspects that make icrowdhouse different: "We have the authorization of the CNMV, our projects go through a triple validation from the own promoter, icrowdhouse and an independent company ".
Expectations of the real estate sector
It is one of the most discussed issues at the end of 2020, with uncertainty still as a determining factor: How will the sector go in 2021?
Daniel Raven He commented that "we are going to finish the year better than we thought. In 2021, the first semester will be similar to the last quarter of 2020, while the second will be marked by greater confidence and the desire to return to the situation prior to Covid ". He added that "the negative impact of the pandemic in the sector has been with the start of work, much less than in previous years, around 30%, so I hope this will improve in the second half. Both prices and sales have so far performed better than the most optimistic forecasts ". Another important line seen by the CEO of ASPRIMA has to do with sustainability: "It is betting on sustainability, with a real long-term commitment and this will also be a trend next year."
albert milano considers that expectations for next year may start from a "reassuring outlook because, even if projects drop, construction will always be an economic engine in Spain." For this reason, he insisted that "participatory financing platforms will grow and will be a very good alternative for savers and developers."
Finally, Pedro Arroyo placeholder image he recommended to the saver "not to look for bargains" this coming year because "the conditions are not the same as after the 2008 crisis." For this reason, he was committed to "not making stomach decisions and calmly analyzing where we put the savings, that is why through platforms like ours it will allow an important investment channel with all the information and project monitoring available to the saver" .